Main Shut Off Valve Replacement in Wallingford
Trust the Experts to Replace Your Main Water Valve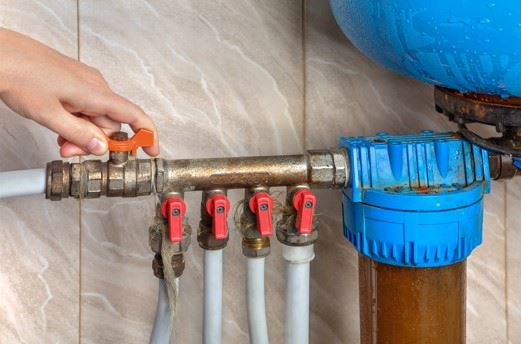 The main shut off valve controls the water supply to your entire home. While this valve is open, water will be able to flow freely through all your water lines. Conversely, closing the valve will stop the flow of water into your home.
This becomes necessary in the event of a leak, burst pipe, or other type of plumbing emergency to mitigate extensive water damage. Call us today for our professional plumbing services. At Mansolf Plumbing and Heating, we provide main shut off valve replacement in Wallingford and surrounding areas.
Our experienced technicians will ensure you get the correct type of valve and that it is installed properly, so you can have peace of mind your shut off valve will work when you need it.
Call Mansolf Plumbing and Heating at (203) 774-5318 or contact us online to schedule an appointment for water heater ball valve replacement services today!
On This Page:
What Is the Water Valve Replacement Process?
The water valve replacement process involves:
Shutting off the water supply to the house
Adding any necessary piping
Installing the new valve
And draining the entire system
How Do You Locate the Main Shut Off Valve?
A main shut off valve is to your plumbing system what your electrical panel is to your electrical system. Just like you can stop the flow of electricity into some or all of your home by switching the breakers off, you can stop water from flowing into your home by turning off the main shut off valve.
Replacing the Handle on Water Shut Off Valve
When you need main water shut off valve handle replacement, our team of expert plumbing technicians are here to help. It is important for you and other household members to know where this valve is, what it looks like, and how to turn it off in case of a plumbing emergency.
There are a few areas in your home where you may find the main shut off valve, including:
Near your water heater
Inside your garage
Beside a water meter
Along an exterior wall that faces the street
Locating the Water Shut Off Valve in Your Apartment or Condo
If you live in an apartment or condo, your shut off valve could be located under a kitchen or bathroom sink, or near your washer and dryer. It is also possible that the valve in those locations is only controlling water to those specific areas. If you are still unable to locate your valve, you can check your property inspection report or call your water company.
What Are the Different Types of Water Shut Off Valves?
Not all shut off valves look the same. The two most common designs are the ball valve and the gate valve.
Here are some simple ways to tell the two apart and when you need to contact our expert water heater valve replacement plumbers:
Ball valve: If the pipes coming into your house are plastic, you likely have a ball valve. This type of valve has a handle that controls the flow of water into your home. When the handle is lined up with the water pipe, water will flow freely into your house. If the handle is turned a quarter to create a 90-degree angle, the flow of water will stop.
Gate valve: This type of valve is used when plumbing pipes are made of copper or some other type of metal. Gate valves look like a spoked wheel (commonly used with garden hoses) and uses a ball, which acts as a wall to block the flow of water.
---
To schedule an appointment for water heater ball valve replacement, call us at (203) 774-5318 or contact us online today to get a free estimate.
---
Can You Replace a Gate Valve with a Ball Valve?
You can certainly replace an existing gate valve with a ball valve if you need to do so. A torch is needed to heat up the parts and remove them. Drain the water from the pipe and valve.
The valve should also be opened. If you are uncomfortable or uncertain with performing these steps, please contact a professional water heater ball valve replacement plumber today!
How to Replace a Gate Valve with a Ball Valve
You can replace an existing gate valve with a ball valve if you already have one. The parts will need to be warmed up and removed with a torch. Drain the water from the pipe and valve by turning off the water. The valve should also be opened.
Warm up the area where the valve joins the pipe. If it does not move, you can grab it with large channel locks. However, if it moves, it is too hot to remove. It might be easier to cut the pipe and pull off the valve, otherwise you might heat up the elbow and cause it to move.
Before you can solder the joints, you need to clean, flux, and heat up the joints. The repair coupling can be used to cover the cut in the pipe and soldered on just like the valve. When connecting the heat, the valve should always remain open.
Schedule Your Water Shut Off Valve Replacement Today
Regardless of which type you have, it is best to test your valve periodically to ensure that it is functioning properly. You wouldn't want it to get stuck when a pipe bursts and water starts spraying everywhere. If you find that your valve is not working properly, reach out to Mansolf Plumbing and Heating for a fast and effective solution.
Why Choose Mansolf Plumbing and Heating?
Offering flexible financing options
Decades of plumbing experience
Superior rating on HomeAdvisors.com
Recognition on Wallingford Chamber of Commerce
Several positive ratings on Google, Yelp, Angie's List, Manta and more!
Make sure to check out our reviews and see what our customers are saying about working with our experienced team.
When you need main shut off valve replacement in Wallingford, call an experienced plumber at (203) 774-5318 or fill out our online contact form!
What Makes Mansolf Plumbing And Heating Different?
Financing Options Available

We understand that it's hard to plan for home emergencies. We offer financing plans to make this experience easier.

Respectful Service

Our technicians are friendly, considerate professionals who will treat your home and family with kindness.

Fully Stocked Trucks

We provide our technicians with everything they need to solve your problem on the first trip.

A Local Team

We dispatch technicians from their homes so they can get to you quickly. Your technician might live right around the corner!

Zero Surprises

You'll get a profile of your technician before they arrive so you know who's coming, and they'll show up on time (every time).

Plumbing and Heating Experts

With over 30 years of experience, we can handle any problem! We still emphasize proper training so we continue to be the best.
We Care About Our Customers
That's why we offer our Customer Care Club! The Customer Care Club is a private membership service club that's exclusive to our clients. We offer it only to people like you who really love your home and want to protect it from unexpected breakdowns or worse, water damage! We have three affordable monthly packages to fit your needs!