Boiler Repair & Installation in Wallingford
Safe & Effective Boiler Service You Can Count On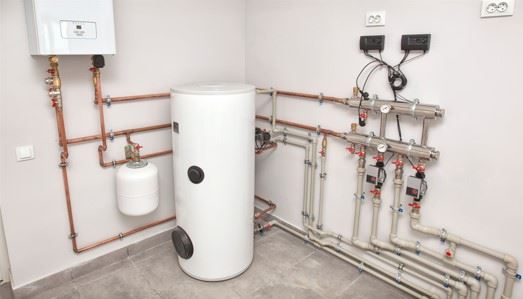 If you have a boiler in your Wallingford home that needs to be repaired, maintained, or replaced, look no further than Mansolf Plumbing and Heating.
We are a family-owned business with 30 years of industry experience. Our expert technicians are available 24/7 to provide same-day and emergency service. We also offer free estimates on replacement systems.
On This Page:
Call (203) 774-5318 or contact us online for fast, friendly, reliable boiler services in Wallingford.
Should I Repair or Replace My Boiler?
Whether your boiler completely broke down in the middle of winter or of it's making strange noises that just won't stop, you should call in a professional to take a look. The sooner you get it inspected, the more likely it can be repaired and won't need to be completely replaced. No matter the issue, our team of heating service professionals at Mansolf Plumbing and Heating is here to help you make an informed and cost-effective decision.
Some common signs you need to get your boiler inspected include:
Leaking
No heating
No power
Low boiler pressure
Gurgling, whistling, or banging noises
Frozen condensate pipes
Radiator faults
Faulty thermostats
In some cases, it may be best to replace your boiler with a new, more efficient model. When making your decision, you'll first want to consider your safety. If a boiler will still be potentially unsafe even after repair, you are better off replacing it. You should also factor in energy costs. A new boiler will be more efficient and reduce the amount of money you spend on energy. Finally, if your boiler requires frequent or costly repairs, replacing the system is the more cost-effective option.
How Boiler Repair Companies Help You
Experiencing boiler issues can be a daunting challenge for homeowners. However, when you engage the services of expert technicians like those at Mansolf Plumbing and Heating, you can rest assured that your boiler repairs will be handled with utmost expertise and professionalism. Our skilled technicians can swiftly diagnose the problem, provide a comprehensive evaluation of the required repair work, and carry out the necessary services to ensure your boiler is up and running efficiently.
Below is a detailed list of the various services that our technicians provide:
Emergency heating repair: Our team is available 24/7 to respond to any heating emergencies, ensuring warmth and comfort in your home at all times.
Boiler servicing: We perform thorough inspections and tune-ups to increase the lifespan of your boiler, prevent breakdowns, and enhance its efficiency.
Boiler repair: No matter the complexity of the fault, our technicians can fix it. From leaks and power issues to thermostat problems, we've got you covered.
Boiler replacement: If your boiler is beyond repair or uneconomical to fix, we offer boiler replacement services with high-quality, energy-efficient models.
Maintenance services: Our experts provide regular maintenance services to keep your boiler in perfect working condition and avoid unexpected breakdowns.
Free estimates: We provide free estimates for boiler replacements, allowing you to make an informed decision about the best way forward.
No matter whether you need electric or gas boiler service near you, Mansolf Plumbing and Heating is ready to get the job done.
Boiler Installation Made Easy
Boilers are complex pieces of machinery. There are several types of boilers, each requiring different methods of installation. Since a boiler can be dangerous when installed incorrectly, make sure you hire a professional to handle the work for you. Not only will they be able to complete the job in a timely manner, but it can even end up saving you money.
If it is time to install a new boiler, Mansolf Plumbing and Heating is the company for the job. Our professional boiler installation techs provide prompt, efficient, and expert service. We'll take care of every aspect of the replacement process, ensuring your new unit is appropriately sized, meets your efficiency requirements, and is properly installed. Call today to schedule an installation appointment.
The Importance of Boiler Maintenance
Residential boilers should be serviced annually. Regular maintenance performed by a professional will ensure your system runs efficiently and effectively for the year ahead. It will also maintain your manufacturer's warranty. This way, if any problems covered by the warranty arise, the manufacturer will be responsible to pay for the repairs or replacement. By having your system serviced once a year, you'll also minimize the risk of breakdown and extend its lifespan.
For high-quality boiler services in Wallingford, call Mansolf Plumbing and Heating at (203) 774-5318 today.
What Makes Mansolf Plumbing And Heating Different?
Financing Options Available

We understand that it's hard to plan for home emergencies. We offer financing plans to make this experience easier.

Respectful Service

Our technicians are friendly, considerate professionals who will treat your home and family with kindness.

Fully Stocked Trucks

We provide our technicians with everything they need to solve your problem on the first trip.

A Local Team

We dispatch technicians from their homes so they can get to you quickly. Your technician might live right around the corner!

Zero Surprises

You'll get a profile of your technician before they arrive so you know who's coming, and they'll show up on time (every time).

Plumbing and Heating Experts

With over 30 years of experience, we can handle any problem! We still emphasize proper training so we continue to be the best.
We Care About Our Customers
That's why we offer our Customer Care Club! The Customer Care Club is a private membership service club that's exclusive to our clients. We offer it only to people like you who really love your home and want to protect it from unexpected breakdowns or worse, water damage! We have three affordable monthly packages to fit your needs!